Food – what would it be with out cooking utensils?  Who knew how collectible some of them are.  We all have heard of Pyrex, the brand name of glass cooking ware of Corning Inc.  But there's more then just Pyrex to collect!
Iron Cast Pots & Pans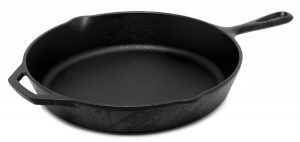 There is nothing like cooking with a cast iron pan.  They distribute heat evenly, are easy to clean and don't leach out harmful chemicals into your food.
What to look for
Iron Cookware is surprisingly fragile and can be damaged in several ways.   Make sure the piece is rust free, not coated in "gunk" (which can cover obvious damage), no cracks especially by the handle, is not warped and is properly seasoned.
All these factors will dictate price.  Rust is hard to remove and could cause pitting when cleaning.  Food and oil build up on the pans after prolonged use and may require re-seasoning.  But it is relatively easy to re-season a pan, check out Southern Livings instructions here.
Many cast iron cookware is stamped, but some are not.  They come in various sizes and the #8 pan is probably the most versatile one at avg. size of 10.5″ cooking area.  There are larger and smaller sizes, but the number does not necessarily mean the inches of the pan.  Higher the number the larger the cooking area.
Weight & Thickness
The thicker the metal of the pan the heavier it will be.  Also the thickness will dictate cooking temperatures.  Thicker the pan, a higher temperature is required for cooking and longer prolonged heat coming from the pan once the heat has been turned off.
Care
Wash your cast iron in warm water, using soap sparingly.  Make sure to thoroughly dry & oil the pan before storage.  This will prevent rust build up.  A little rust is easy to wipe off, but if it starts to dig in you could be out of luck.
Heat to at least a low medium before adding ingredients.  This will help make cleanup easier as food will be less likely to stick.
Collectible Manufacturers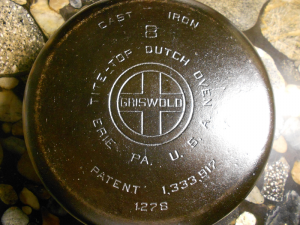 Griswold Manufacturing was an American manufacturer of cast iron home products founded in Erie, Pennsylvania, in 1865 that finally closed in 1957. For many years the company had a world-wide reputation for high-quality cast-iron cookware. Today, Griswold pieces are collector's items.  (Wikipedia).
The pans can vary in prices, Ebay I found several under $100 but they did not look as if they had been properly restored.  On The Pan Handler LLC some of their listings were well over $200.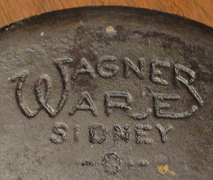 "Wagner Manufacturing Company was a family-owned manufacturer of cast iron and aluminum products based in Sidney, Ohio, US. It made products for domestic use such as frying pans, casseroles, kettles and baking trays, and also made metal products other than cookware. Wagner was active between 1891 and 1952, and at one time dominated the cookware market, selling in Europe and the US. The purchasers of the company in 1952 continued the brand, and Wagner products are still manufactured today. The original items are prized by collectors." (Wikipedia)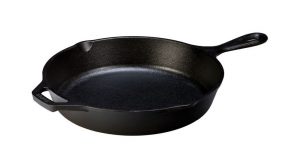 "Lodge Cast Iron Nestled alongside the Cumberland Plateau of the Appalachian Mountains is the town of South Pittsburg, Tennessee (population 3,300). It was here that Joseph Lodge and his wife settled and, in 1896 opened his first foundry.  Well into our second century in business, Lodge continued to innovate. In 2002, the legendary Lodge Logic line of pre-seasoned cookware was introduced, eliminating the hassle of its unseasoned counterparts. It was an industry first that has since become an industry standard." (Lodge Cast Iron\About).
I own a Wagner #9 and use it all the time.  Eggs come out perfect almost every time! It has a "thinner" wall and cooks at a slightly lower temperature then my Lodge Cast Iron #6.  Both work great (and the Lodge pan was my last Christmas gift from Kathleen).  I will never go back to a cheap fry pan again!
Next Edition I'll look at Collectible Cartoon Glasses!  Love those old glasses from Carrol's Restaurant (Burger King)