So what's under your food today, a paper plate, dinnerware or possibly some fine china?  With Thanksgiving coming up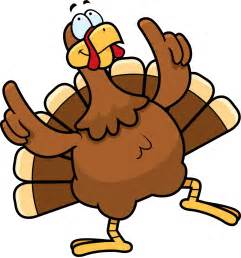 (my favorite holiday) I thought I'd write about dinnerware.   Our formal dinnerware usually has a story or special meaning attached to it.  For me, our formal dinnerware was my mother-in-law Silvia's.  We only bring them out for special occasions like Thanksgiving or Christmas.
With formal dinnerware you take much better care of these dishes compared to your everyday ones and we all can remember Mom saying "You be careful with that they were your great grandma's!"  Breaking one of these dishes turns in to a major event in any household and if you do break something you'll be reminded every year that you did.  "Remember when Joey dropped that plate last year and the dog ate everything on it and Grandma fainted…"
What's the difference
How do you tell if your dinnerware is antique or not?  Is it China or just dinnerware?  Well it takes a little research and I'm finding it can be challenging.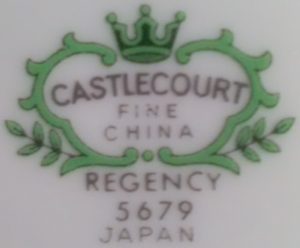 The first place to look is at your settings.  A set should all have the same pattern and if present, a mark on the back or bottom of each piece.  If there is not a mark it will be a lot harder to ID and may require a professional.
China will have a shine to it and a different "feel" then everyday dinnerware.  There are three types of China and it depends on the manufacturing process.
Bone China – which has bone in it which can be cow or even human (yuck!).
Porcelain – No bone content but a higher firing temperature.
Fine China – Has a lower firing temperature then Porcelain and is more fragile then Porcelain.
What I found out about our China is this that it is the Regency Collection made by Castlecourt and not much more.  A full set was hard to find.  On Replacements Ltd. they only had dinner plates, they do offer to look for other pieces but did not have anything in stock.
I could not find anything on the company at all.  I guess I'll need to get one of our books, Pictorial Guide To Pottery And Porcelain Marks to figure it out.
What to look for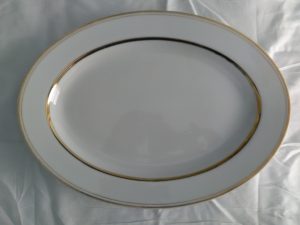 When you are buying vintage or antique dinnerware some things to consider, is it a full set with all the pieces, are there any chips, can you easily find info on the company from it's mark and can you find comparable examples.
I figure my wife's set is worth $250 – $750 for insurance purposes.  It is a full set with all the plates, coffee cups, serving tray and gravy boat.  Now when I pass these down they'll have a new memory attached and meaning when ever they are used.
That is the thing with formal dinnerware memories add a non-tangible value to the item.   So parting with a set you have used for those big family dinners would be hard.
Personally I don't see dinnerware as a collectors item but there seems to be a potential for flipping it.  Lot's of Estate Sales show dinnerware for sale in their pictures.  They are not always identifiable, but at least you'll know that they are there to buy.
Like this Estate and Antique Furniture AUCTION! on Nov. 14th by Cash Realty.  They seem to have a full set being auctioned.  So I'm sure that there is an opportunity that exists here by finding local Estate Sales!
Shipping & Risks
Shipping could be an issue so make sure to have a pro at the UPS Store help you out.    UPS' insurance policy may require that they pack things like this, so call ahead and talk to one of the store reps.  Replacing a broken piece could be a challenge & expensive so this is a good idea to do.
Where to Sell?
To start out you may want to use Ebay or FaceBook to list your first pieces.  FaceBook is making it pretty easy to add things to sell on their site.  You can setup a Private Group or your own business page*.
Once you start to get an inventory you may want to consider looking for consignment auctions or renting some space at a place like Weeden's Mini Mall or Community Co-Op at Newberry.  When considering these options make sure to review your profit margin on past sales and figure out how the additional cost will effect your bottom line.  Consignments charge a % fee on the final sale (see this example) and you won't know what you get until the bidding starts.  So you may want to make sure you have a reserve on the set.
Another option have your own Online Auction using our App.  It is easy to use.  You can setup a sale in less then 20 minutes.  All you'll need is a camera and an internet connection.
So Get out there and find some treasure!
---
*Make sure to have some formal business entity (i.e. DBA, LLC),  a Federal Tax ID (EIN) and way to collect your local sales tax.  Check out these guides in our book store for more information on starting a business.