Do you have a basement or attic full of stuff you haven't used in years?  But you don't want to spend the 20+ hours to organize a garage sale?  Consignment selling might be a way to handle both of these issues for you!!
What is consignment selling or Auctions?
Consignment is the selling of other people's belongings for a fee.  The fee is paid when the item is sold and the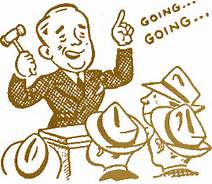 remaining amount is given to the seller of the property.  Some Consignment Auctions may also have an additional buyers fee.
Consignment selling can be handled in a few ways, we will look at auctions, estate sales and consignment shops.  We all know about pawn shops, but you don't have to go there to try and sell your things.  There are better avenues that you can take.
Consignment Shops
These are specialty stores usually focusing on antiques, collectibles or a particular category of items.  Haycook Antiques for example, are looking for mid-century toys, furniture and lamps .  You can contact them for their terms.  Shops are always looking for inventory so they are good option if you want to get a certain amount for your item.  Normally the item will need to be sold in 30 – 90 days, the owner will probably start lowering the price the longer it is on the shelf and will be given back if not sold.
Estate Sales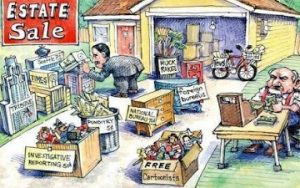 Another option maybe contacting a Estate Sale Company like Sales by Colleen or Daisy Estate & Household Sales, Inc. and have them come in and evaluate what you would like to sell.  If you have enough to make sense to have a sale you can schedule a date with them to have it.
Before the sale they will come in tag everything, handle promotion, have representatives on site the day of the sale and more.  Fees will vary with different companies and with the value of your offering.  Again do your research before they come over.
Consignment Auctions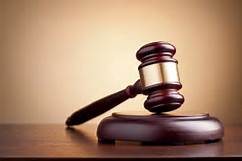 These tend to be bigger, involve a lot of items and can either be focused on one type of category (i.e. Building Materials, sport vehicles…) or involve multiple estates or items at once.  Terms can vary and they are usually a one time event making it more challenging to find the right venue  at the right time.
With auctions you may luck out and make a bundle or some items may go for a steal to the buyer.  It is a riskier way to handle the sale, but with risk there can be a better reward!  If you have done your research you will be able to judge the risks properly.
Annette's Lakeside Auction or Kip Garris Auction have regularly scheduled auctions.  Attending a couple before contacting them is a good way to see how it works.  You'll get a feel of who is attending, how the bidding goes and maybe have a chance to talk to the auctioneer about how to go about selling in their next one.
When you do talk to an auctioneer do your research so you understand what your items are worth and ask about reserve pricing for your items (see Auction Strategies – How to Win the Bid! for more on reserve pricing).
Terms of Consignment Selling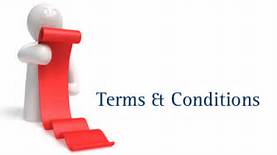 Terms will vary between vendors but for example, Annette charges a Buyer's* fee of 10% which the buyer must pay on each item they won.  The Seller pays a 25% commission on the sale.  For example, if Item X is sold for $100 the buyer would pay $10 and you would receive $75 (-$25 commission) for the sale.  This is why it is critical to understand the value of your items before making consignment decisions.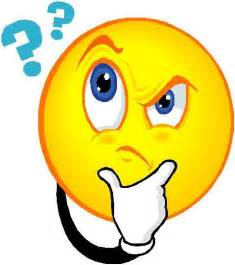 Some things to consider when consigning
How will you get your things to the auction or shop?  Some shops will come in and evaluate what you have to offer and make arraignments to move your belongings.  I recommend calling Estate Sales Store on 3268 Lake Ave, Charlotte.  The owner is really a nice guy and his partner Colleen handles in house sales also.
You'll want to read & sign a sales agreement with any agent for the business.  Make sure you read the terms!
How Auction Treasure Trove can help!
We have a category on our website dedicated to finding consignment opportunities for you take advantage of and of course it's free!
Use our business listings to find contact information and locate some near you.
Use our Today's Auctions link to find events happening today!
Use our Resource Category to find great information on how to succeed in the auction business.
Check back regularly for more Tips & Tricks!
Until Next time get out there and find some treasure!
*See her full posts on auctionzip.com showing her buyer's & commission fees
---