My pick list for "A Picker's Paradise" round two on Nov. 4th @ 10am 30 Armand Drive Hilton, NY 14468.
Round One was awesome and this one looks like it will also be a good one!  Lot's of tools & engines are pictured here.
Some items of interest & what I found out about each item
Power Tools


Dewalt Compound Miter Saw & Stand
New: $400 – Home Depot
Used Reconditioned: $279 – EBay
I am assuming this is a 12 in. Miter Saw.  Examples do not include the stand
---

Drill Press
Comparable New: $100 – $400 Home Depot
Used: $75 – $200 – EBay
This would be a great tool to add to any woodworkers shop!
---

Husky Storage Jobsite Chest
I could only find a similar Jobsite Storage Chest $447 new.
This could be a great find for a contractor, an item worth watching!
---

Homlite Generator
Used Generators can go for $50 or more.  Hard to tell what this one is capable of but could be a good find.  Beware, this model is most likely out of production and parts for repair could be a challenge to find.
---

Engine Hoist
New: $150 – $200 on Ebay
Used: about the same.  Depending on the LB. capacity this could be an awesome addition to any home mechanics tool collection.
---

Band Saw
New: JET 1.25 HP 14 in. Pro Woodworking Vertical Band Saw – Home Depot
$1,019
I could not find any used on EBay, this could be an excellent find.
---
Collectibles


Vintage Kendall Motor Oils Sign
EBay: $450 – I could only find a similar sign, not exact, but could give you an idea of what this is worth.  Example on EBay looked like it was in mint condition
---

Underwood Typewriter
EBay: $30 – $99
Assuming this still works it could be an item to flip??
---

Sniff O Miser
Not sure what this is, just thought it was funny.
---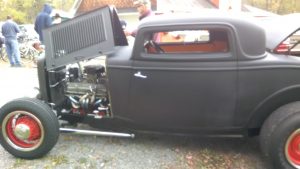 1932 Totally Restored Ford Coup
This did not go in the first round, really clean car, with a reserve.  Looking for sweet ride, this is it!  Let's just say the reserve is way under what Classic Car lists similar type vehicles.  As far as I know this is a restored vehicle & not a kit car.
---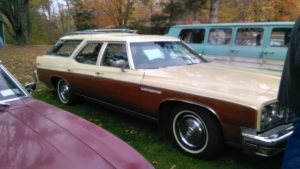 1971 Buick Estate Wagon
This auto was for sale across the street, I can not remember the asking price, looked pretty clean though!