Ever wonder if going to auctions can be profitable?  I went to a Reynolds Auction this weekend to find out if it was possible and yes it is!   They run a smooth show and this auction has lots to offer (Part 2 is on 11/4/17 10 am – same address).
Before going out I checked out their photo page to see what was up for auction (see below).  I then Googled what I thought the item was and checked out how much they were on EBay.  May not be the most accurate evaluation but it gave me a good starting point.
This estate had signs, more signs and some more signs… These were vintage original advertising signs one was rare as far as I could tell.  A Texaco Store front sign, that sold for $400 was listed on Ebay for over $1,000.  This bidder made out big time!!
The signs were sought after by the crowd.  They did not have any trouble getting the bidding going for these items!
Collectibles


Lots of great toys and interesting collectible items were auctioned (looks like round #2 will have a some also, mostly tools pictured though).  One toy truck caught my attention before I went a Structo Pressed Steel Hydraulic S.F.D. Hook & Ladder Hydraulic Fire Truck 1950's which sold for $50.  I found they were going for $89.90 – $123.24 on EBay.

The other interesting item was a Vintage Black Cast Iron Lawn Jockey which sold for $300.  These are really collectible and I'm sure it could be flipped for a lot more!
As you will see below, it's a good idea to search EBay to know when the bidding may have gone to high.
So get out there and find your treasures and if you have time stop out and go to this auction on Nov. 4th – 10am!  I'll have a Interesting Items post for this later this week.
---
Items I was interested in and what they sold for

Mobilgas Mobil Pegasus 24″ Round Embossed Aluminum Metal Garage Sign Wall
Sold for: $50
Ebay: $27.50

---

Vintage Large Coca-Cola Coke Sign Insert 24″ X 44.5″ 
Sold For: $160
EBay: $75
---

Mobil Gas Oil Red Pegasus Metal Steel Sign Large 38″ Vintage Garage
Sold For:  $180
EBay: $159
---

Polar Motor Co. Wizard gas engine bicycle with 195 miles
Sold for: $1,000
Ebay: $1,000 – $2,000
---

Vintage Pay Phone
Sold For: $85
EBay: $155.90 – $199.50
---

Starcraft Fishing Boat w\ Engine & Trailer
Sold: $1,000
Good deal!  I'm sure this would go for more!
---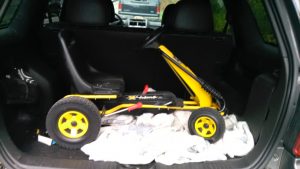 Kettler Pedal Bike
Sold for: $45 (I bought this for my grand kids!!)
Ebay: $50 – $100