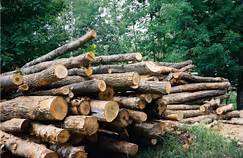 Day(s): 46
Starts: 01/15/2019 9:00am
Ends: 03/01/2019 5:00pm
Address
One Forestry Drive
SUNY Environmental Science & Forestry
Syracuse, NY 13210
Details
2019-01
NOTICE OF SAWLOG SALES
The State University of New York College of Environmental Science and Forestry (SUNY ESF) will be selling sawlogs roadside between January 15th and March 1st 2019.
Interested buyers should email current price sheets, spec sheets, and contact information to rash@esf.edu. Buyer(s) will be selected based on price sheets submitted. Selected buyer(s) will be notified via email of upcoming sale dates.
Species included in this sale will primarily be black cherry and white ash, as well as some hard maple.
Estimated volume to be removed: 14,000 – 20,000+ bd. ft.
Service-Disabled Veteran-Owned Set Aside: No
Due date:01/09/2019 3:00 PM
Contract term: 3 months
County(ies): All NYS counties
Location: Heiberg Memorial Forest- 7393 Maple Ridge Road, Tully, NY 13159
Primary contact: State University of New York (SUNY)
SUNY Environmental Science & Forestry
Forest Properties
Ryan Ash
Forest Property Manager
One Forestry Drive
Syracuse, NY 13210
United States
Ph: 315-870-0111
rash@esf.edu
Company Information
One-Time Event –