Railroad Lanterns – Starting  a Collection
Part II
I'm finding there is a lot more to Railroad Lanterns then I would have ever guessed.  I took a look at three of the manufacturers out there and it's only the tip of the iceberg!  If you are into railroad collecting I think lanterns are must to have.
Adams & Westlake, Ltd.
Adams & Westlake, also known as A&W or Adlake, became a dominant maker of short-globe lanterns and their #200, #250, and plain "Kero" (sometimes known as #300 or #400) models were sold by the thousands to the entire range of railroads.[i]
They started producing their short globe lantern in the 1920's and worked on improving the design with later models.  They still make & sell the lamps as collector items.  Since they are the original manufacturer buying replacement parts from them should help hold the value of their antique lanterns.
To tell a new model from an antique make sure you look for ware and tear on what is being claimed as "antique".  Also look for the stamp representing the RR they sold it to.
Their current Website
Some Ebay Examples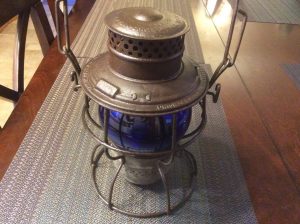 Railroad Lantern Western Maryland RY WM – Blue Globe Adams & Westlake
Asking: $150
Adams & Westlake Railroad lantern stamped for the Western Maryland (WM) railroad with circle K Blue globe. Burner works and pot is solid. Lantern is in great shape but is used so lid has deep rusty appearance, scratches and lots of grime. I wiped it down with WD40. Good solid lantern.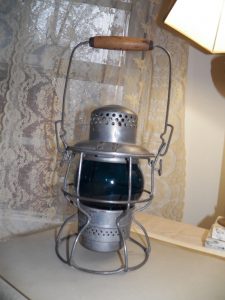 Adlake Kerosene Railroad Lantern With Blue / Green Teal Globe Unused Wood Grip
Current Bid $75
Like new, unused, Adlake (Adams & Westlake) single guard kerosene railroad lantern, with wood grip on metal bail. Has no RR markings on lamp or globe. In excellent condition. There is no carbon residue on inside of smoke bell. ADLAKE KERO is embossed on top.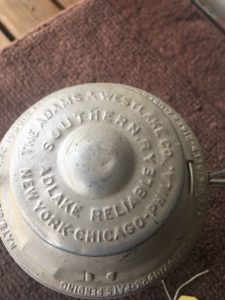 This photo gives you a good idea what to look for on an antique lantern.  Many of the articles a I read about said to check carefully the caps.  Make sure they are the original and make sure that someone has not put an old cap on a new lantern.
Armspear Manufacturing
Armspear Manufacturing originally began operations as the Railroad Signal Lamp and Lantern Company in the 1880's. At some point in the early 1890's, the company began marketing a line of lanterns and other high-quality lighting devices under the name "Armspear"…
After 1931, short-globe lanterns with the Armspear name were produced under contract by Adams & Westlake until the 1960's, but these had a strong similarity to the Adams & Westlake "Kero" short-globe lantern. [ii]
Armspear Lantern Models
Some Examples
Ebay: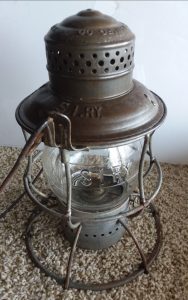 Spokane International RY Armspear/ Clear Heavy Cast Extended Base Globe
Asking $825
Spokane International Railway/Railroad 1913 Armspear with a S.I.Ry. Clear Cast Extended Base Globe. Square ended panel with heavy cast block letters. No cracks, tiny rim chips, and a few small scratches. The frame has been lightly cleaned, with tinning, green gray metal, and light rust.  There is a repair on the bottom of the frame, someone drilled a hole at one time, and someone repaired it. The burner and possibly the pot are Handlan, they came with the lantern. The lantern came out of a long time collection in the Spokane Wa. area.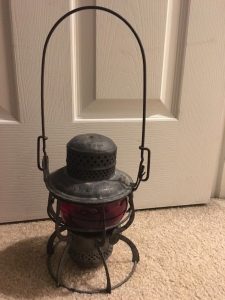 Fantastic 1925 Armspear Erie Railroad Red Etched Globe Train Lantern
Asking $150
The Railroad is ERIE. No holes in the lantern. This is a hard to find Armspear lantern set fount and burner! The burner and fount work great. No holes in the fount. The red globe is made by Corning and has ERIE etched on it. There is chipping on the top and bottom rims (not seen in lantern). This lantern is stamped (numbered) A9261. Unique lantern! This is a great lantern for a railroad collector.
R.E. Dietz Lanterns[iii]
Robert E. Dietz at Age 22, purchases a lamp & oil business at 62 Fulton St., at the corner of Columbia St., Brooklyn, New York.  He began manufacturing candle lanterns, and was able to save $600 in the first year of business.  The business lasted until it was sold to Federal Mogul Co. in 1990.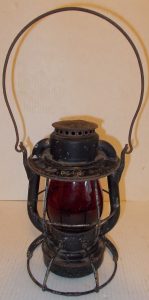 Vintage Dietz Vesta P & R Philadelphia & Reading Railroad Lantern with Red Glass
Asking $100
This is a Vintage Dietz Vesta P & R Philadelphia & Reading Railroad (I think) Lantern with Red Glass. It is marked Dietz Vesta New York on the top of the lantern and R. Co LO CO DEPT. on the brim The glass is marked Dietz Vesta New York and P & R. It is approximately 10″ tall not counting the handle. It is in used condition.
Dietz Vestal railroad lanter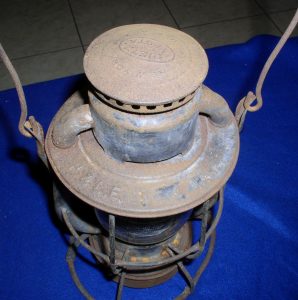 n P.& L.E. R.R.
Asking $45
Here is a Dietz Vestal railroad lantern P.& L.E. R.R.Lantern has surface but is complete. Globe is marked Dietz Vestal. great collectors piece.
Until Next Time, get out there and find some treasure!
Cap Examples
---
[i] Railroad Collectibles – A&W Short Globe Railroad Lantern Values (#200, #250, & "Kero")
[ii] Railroadiana Online – Armspear Lanterns
[iii] Copyrighted Text by W.T. Kirkman Used With Permission, Courtesy of  www.lanternnet.com