Childhood Flashback
I love the Looney Tune collectible glasses, especially the 1973 – 1975 collections.  They remind me of all the great cartoons I enjoyed as a kid on Saturday morning.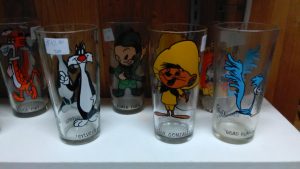 Finding the prize
This year I found a few places that were selling them at retail cost, usually $10 – $15.  But I need to hit some Rummage Sales to try and find them for less.
There were 2 manufacturers of the glasses; Federal Glass Company which made a thinner glass and Brockway Glass Company which made a thicker walled glass.  Finding a Federal glass is harder since they tend to break easier.
According to Perdue Antiques Blog Article there some different glasses to keep an eye out for.  Federal Glasses bring more value because of the breakage  and are worth twice as much as Broadway glasses.  Slow-Poke Rodriguez, a Small Red Nosed Sylvester and Road Runner not saying "Beep Beep" are the rarest of the collection.
Slow-Poke Rodriguez
This is the rarest and most expensive of the regular collection.  On Ebay they were going any where between $36.00 (high bid as of 11/8/17 10:00am) to Buy Now for $67.95. 
Things that will decrease the value are fading or chips on the graphics or glass.  Finding this glass would be the collectors dream at a yard sale or estate sale!
Once you do find this treasure make sure to never put it in the dishwasher, keep in a dim cupboard and don't let the kids drink out of it LOL.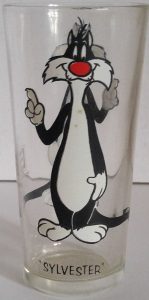 Small Red Nose Sylvester
The average price for the regular nosed glass was around$8 to $20 and I was unable to find even one small nosed graphic on Ebay.  Another website  Back N The Day Antiques confirms this is rare find indeed.
Road Runner
I was able to find an example of a white lettered glass compared to a black.  Pricing did not seem to be much different.  Again, I did not find a glass without the Beep Beep.  I'm guessing if you do it would be worth in the range of $50 – $100.
The Year for Collectors
1973 really seems to be the cream of the crop when it comes to Looney Tunes.  But there are some other glasses that are getting $20 or more on Ebay.  Scooby-Doo & Shaggy for instance was going for $24.95. 
The two most expensive glasses I found were going for the ridiculous amount of $675 for Mighty Mouse & Space Mouse w\ White Letters.  So if you have these some where in your kitchen get on Ebay now!!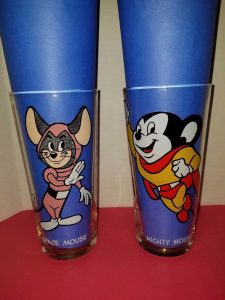 So you never know where treasure might lie!  Get out there today!