Last weekend was a trip to Ogden NY where I got to meet some great people and find some up and coming artists.  Several vendors were at their first event and I think they will do well this year!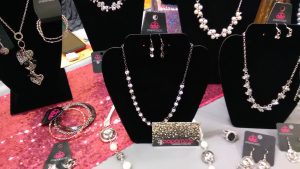 Paparzzi Accessories – My first stop was at Lisa's $5 – Paparzzi Accessories.  She has some great jewelry and with Mother's day coming up I know you could find something for Mom! You can't go wrong with a necklace and matching earrings!
First Time Out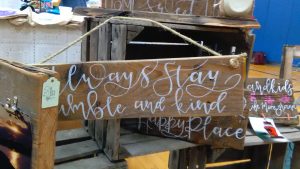 Rustic Barnwood Buys – By Julie & Eric they had hand made freehand scripted signs.  All were hand made and come from recycled wood.  That's the great thing about small craft shows,  unique signs like this are only something you can find at these shows.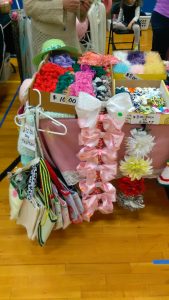 Treasures by the Dozen – Homemade Stuff by  Grandma & Nonna.  Grandma has been crafting for a while and her friends  & family have been telling her she should sell some of the great things she makes!  So she did! Nothing like love from grandma and it shows in her work!
Making Art is a Gift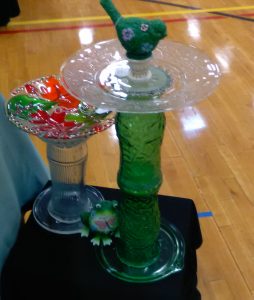 Crystal Creations – Repurposing glassware into works of art.  These pieces are a great example of what you can do with that old glassware & crystal.  Their imagination showed in every piece.  Their bird baths would make a great addition to any garden!  – Presented by Paul's Kitchen Crafts.
StampinUp – with Ann Coffey – Debbi Hill – They have great stamped art that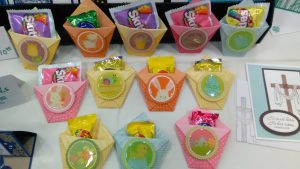 includes birthday cards, Easter Gift wraps and more!  They take paper to the next level with their work so if you are looking for that unique card that will be saved in the future make sure to check them out!
Outstanding Vendors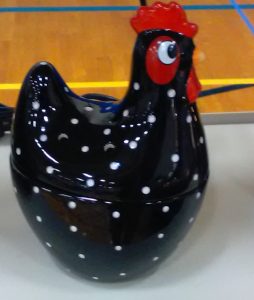 Scentsy – Who doesn't want their house to smell wonderful.  They make sure your house smells good & has interesting art to go with it.  They have a wide variety of scents that can change your whole attitude.  Safe to use and easy to replace the fragrance.
Color Street – a vendor my late wife would have loved. Easy to use finger nail applications. Change the color instantly with her wonderful nail art designs.  That next night out on the town be the all the talk with your outstanding nails!
Finding treasure is as easy as going to that next craft show where artists like these take the old and make it new again.  So if your looking to add to the décor of your house or you, get out there to the next craft show!
Check back often we are always looking for that next great show!
---
Vendor Contact Information
Treasures by the Dozen
Home Made Stuff by Grandma & Nonna
mvsciortino@gmail.com
$5-Paparazzi Accessories
Lisa Wood
WebPage
FB Group
5guiltfree@gmail.com
585-281-9288
Crystal Creations
11 Westway
Rochester NY 14624
585-247-8643
Rustic Barnyard Buys
Free Hand Scripted Signs
julieirvin220@gmail.com
585-520-3684
315-420-9684
Stampin Up
Ann Coffey & Debbie Hill
hilldebbi@hotmail.com
585-352-9443
C: 585-469-2197
Scentsy
Christine Dobsen
585-392-5398
Color Street
Jill Place
585-259-9844FB
FB Group
WebPage
jillsnailvips18@gmail.com